JEAN-PAUL DAUMAS
The Elephant Graveyard (Le Cimetière des élephants)
Five elderly women (one of whom turns out to be a man) meet in a family boardinghouse at a "Suncoast" resort only to find themselves shut in by the rain and the fear of hoodlums in the streets. As the title indicates, the elderly congregate at the seaside to die there. In moods alternatingly comic and sad, poetic and realistic, the women engage in role-playing but eventually unveil their secrets and fears.
4 women, 1 man. Single set.
The play was first staged at Avignon in 1990 and received a Paris production in October-November 1991. It has been widely staged in Europe. American staged reading, NJ Repertory Script in Hand series, 6 December 1998. Dir. Cindy Carver. The English translation has been published in Modern International Drama, Vol. 28, No. 1, 1994.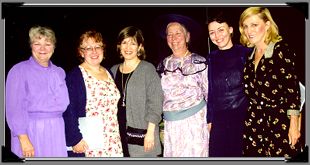 Cast members, director and translator following performance at NJ Repertory.